1966 GMC Suburban Frame off resto – MONTHLY UPDATES
Purchased 1-21-2021
Day I brought the Suburban home | January | February | March | April | May | June
July | August | September | October | November | December | January 2022 | February | March | April | May | June | July | Misc Updates
Some of the parts bought

June 3 – Got the doors almost done inside and out.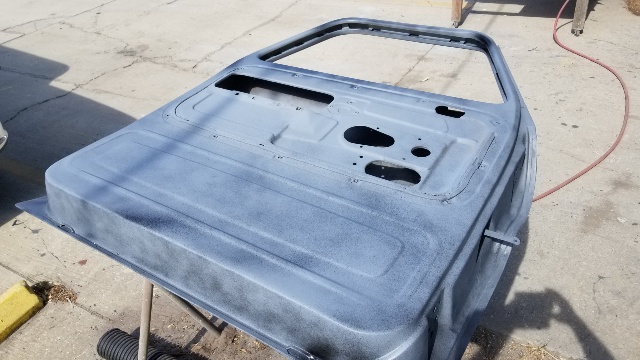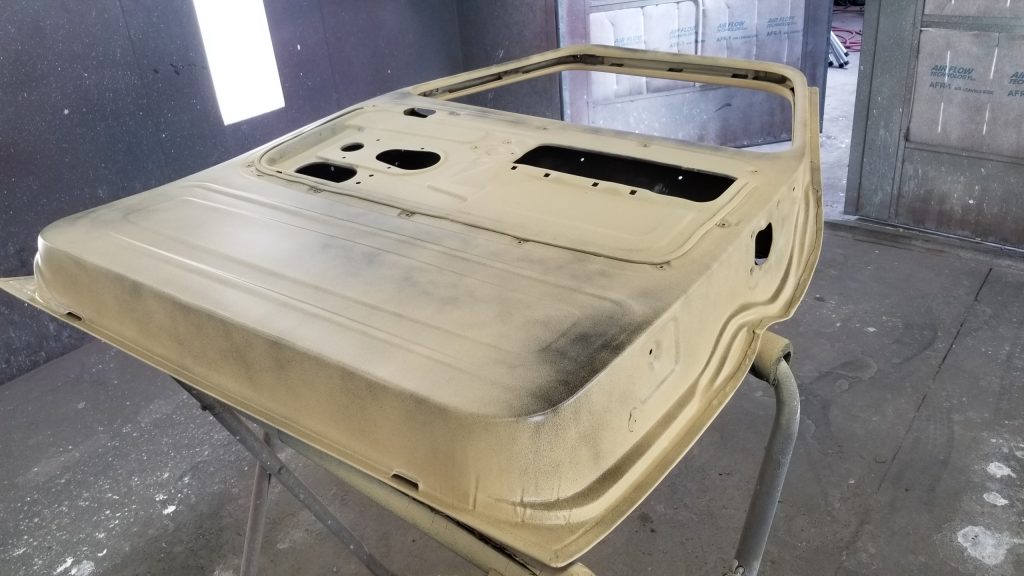 June 4 – Stripped and primed the liftgate Excellent liftgate to start with. Very minor bodywork. No rust.
2K primed it.
June 4-5 – Stripped and bodyworked tailgate. Excellent tailgate. Had some dents and some very minor rust. Will be working the inside next week.
June 8 – Lower inside in prime 1 and outside hatch in prime 2
6-8 – Very clean inner fenders. I had these sandblasted a few months ago, but while working on my 1963 Suburban, these got a little bit rusty, so I wiped them down with Ospho. I also removed all trim, plugs, brackets and other misc off the tailgate, hatch opening.
6-10 Finally worked on the inner fenders. Welded up all the extra holes and smoothed them out. Probably about 15 holes. Also smoother out the underside. They came out great!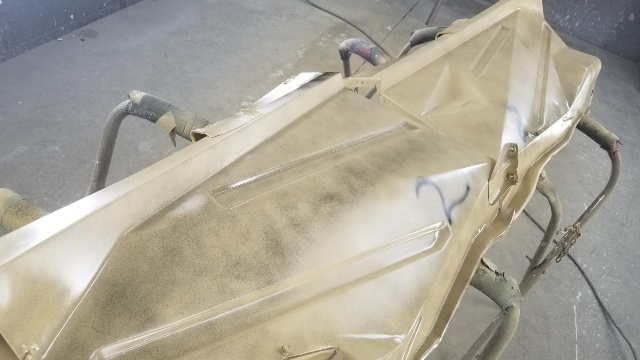 6-17 – Removed the glass from the sliders. These will need some fabrication done. Did the door jams. NO rust. Very clean
6-18
Primed the top of the firewall and cowl along with the underside of the roof panel (above the windshield). Lucky to have ZERO rust in this area. No bodywork either.
6-26 – Todays' project, I sanded the rear jam, did some minor bodywork and primed it in 2K.
Hopefully within the next 2-3 weeks, I'll be pulling the body off.
Call Gearworks today in Clearwater. They've had my 12 bolt rear since 3-15. I had called them May 1st to get an update and they said it was on a rack and they just got all the parts in the previous Thursday and it shouldn't take long to get built. Keep me posted I told Bryan. I didn't hear from them for 3 weeks. So I called them up. Oh, we're having an issue with the Moser axles. They are backordered.
A guy behind me built his 12 bolt truck in 3 weeks inc new axles. So I contacted Moser, they said they make them to order, it only takes 2 days. So I emailed Gearworks about this. Haven't heard back. This was about 3 weeks ago to a month. I've emailed them at least 5 times within the past 3 weeks. No responses.

I'm not for sure what is going on with this, but since they changed hands a couple years ago, service has definitely went south