1973 Mercury Montego MX Frame-On Resto Project
Click on any of the months below to see updates
Before Pics | October 2012 | November | December | January 2013 | February
Misc Updates | Misc pics once the project was done
Parts purchased

Some of my other projects –
My 1966 GMC Suburban " Custom" Project (started January 2021)
My 1963 GMC Suburban "Custom" (FOR SALE) Fauxtina/Patina paint job FS page – Gallery – Video
My 1972 Montego GT 429 / 521
My 1973 Montego MX (see monthly updates toward the top once you get to the page)
My 1966 Chevy C-10  (see monthly updates toward the top once you get to the page)
My 1977 Trans Am Buccaneer Red
My 1963 Pro Street C10 (back halved frame off I did this back in 1992) Video
Some of my other cars and trucks
My YouTube Channel (how-tos, projects, paint jobs…)
1973 Montego MX February Updates.
This will be the last month I put up updates.
I'm pretty much done with the paint and body project.
Still have some odds and ends that I plan on doing.
The rear w/o mouldings are on!
Both mouldings are NOS (NEW old stock). I had both mouldings stripped and repolished.
I was going to put on the 1/4 Brougham mouldings, but decided against it. I have a brand new NOS moulding (right – D2GY-6529066-A) for sale if anyone is interested. These mouldings go directly behind the w/o moulding and end close to the valanceAll together, I have $700 into polishing all mouldings including the vinyl top mouldings, window mouldings and wheel lip (opening) mouldings.
Side mouldings are a combination of NOS and good used. Most are NOS though.
Rocker mouldings are NOS. Stock anodized clearcoat is still on them
Notice the perfect reflection in the pics below.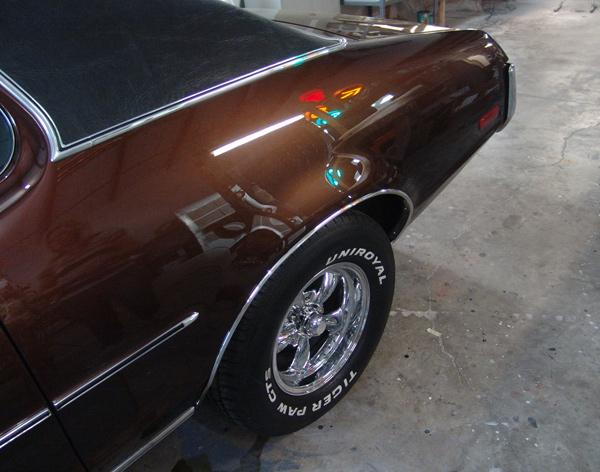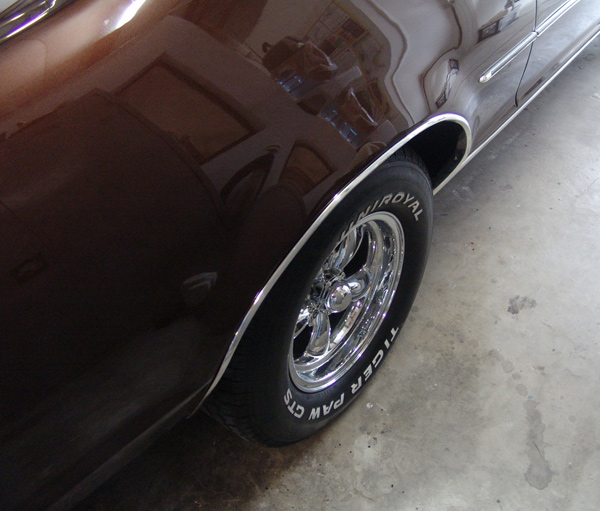 [xyz-ips snippet="1973-Mercury-Montego-MX"]

2-21-2013 Started a new page – Misc pics – posted some good pics of the Montego
2-22-2013 – Had the rear brakes worked on. Changed the brake cyliners and brake shoes. The brakes worked fine, but one of the cylinders was leaking. The shoes were excellent, but I replaced them anyway. I would say that the the Montego had some brake work right before I bought the car. The springs looked like they were in excellent condition. So only the cylinders and shoes were replaced
If you have either a Montego or Torino, and you plan on doing some brake work on your drums, be sure you purchase the correct shoes and cylinders.
I originally had purchased the shoes and cylinders for a police or taxi cab. These were slightly bigger than the ones I needed. So there IS a difference even though the guys at the local auto parts store said I had the correct parts.
| | |
| --- | --- |
| | Click for larger image (note the good bushings in the 'short' arm |
2-23-2013 – Changed the wiper linkage. Both bushings on the small linkage bar (click for large image) were shot. This is my third linkage assembly I've gotten (One was free, the second I received a refund). Finally found one with good bushings. When I installed the 'good' linkage, I see that the alignment of the wiper motor shaft and the short linkage bar bushing were just slightly off. So after time, the bushings would wear out. So if you have a Torino or Montego and you have play in your wipers, this is most likely the culprit. See these bushings in the large image. This is the way it comes from the factory. There is no alignment for the motor or the linkage.
Also, the wipers were not going in the 'park' position. There is a small ground strap that resembles an 'accordian' that is make of copper. This grounds the wiper motor to the firewall. Removing the strap and bolts, then cleaning them, and reinstalling solved this problem