1973 Mercury Montego MX Frame-On Resto Project
Click on any of the months below to see updates
Before Pics | October 2012 | November | December | January 2013 | February
Misc Updates | Misc pics once the project was done
Parts purchased

Some of my other projects –
My 1966 GMC Suburban " Custom" Project (started January 2021)
My 1963 GMC Suburban "Custom" (FOR SALE) Fauxtina/Patina paint job FS page – Gallery – Video
My 1972 Montego GT 429 / 521
My 1973 Montego MX (see monthly updates toward the top once you get to the page)
My 1966 Chevy C-10  (see monthly updates toward the top once you get to the page)
My 1977 Trans Am Buccaneer Red
My 1963 Pro Street C10 (back halved frame off I did this back in 1992) Video
Some of my other cars and trucks
My YouTube Channel (how-tos, projects, paint jobs…)
The Montego MX is painted!
2012 Sunset Bronze Pearl
Painted 12/1/12
Jams were cut in yesterday. Pics coming soon of the jams
Utilized both booths – Body in one booth and the hood, deck, front and rear fender along with the fender extensions in the other booth

Body ready for sealer

Fender extensions
[xyz-ips snippet="1973-Mercury-Montego-MX"]

Body in the basecoat

Final clear

Reflection off of the hood

Trunk jam was painted the same time as the rest of the body

12/5 New hood insulation and clips

Sharp looking color in the sun!!!

New trunk paint

New trunk mat and gasket. Also tire jack instructions decal on the underside of the deck lid.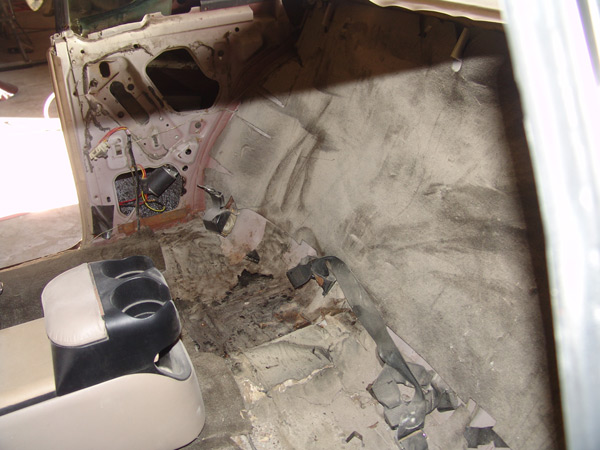 All 4 window motors are new. We cleaned out the insides of the quarters (just dirty – no rust) and undercoated the insides.
We also greased up the window tracks.

Painted fender fillers (between bumper and lower fender)

Painted the front satin black bc/cc

Front grills back on – painted satin black bc/cc – New Lincoln Mercury emblem
Front bumper back on. Also the fender extensions

Side view. Repainted brake drums and calipers black (instead of the red when I bought the car)

12-14-2012 New NOS rocker moldings.

No orange peel. Reflection off of the left quarter

Another reflection pic
Beautiful color in the sun!

Redid the jack. This is the same color it came in.

All vinyl top trim moldings before polishing. These will be stripped of the clearcoat, and polished.
The stripe will be repainted in a semi-gloss.
I also have both front and rear window trim being polished.
Had the rear glass installed. New rear gasket and clips.
Rear moldings are getting polished.
Driving home for the first time since repainted 12-21
The above pic remind you of my first ride home with my 66 Chevy C10?
Posted on my October 2011 "Monthly Updates"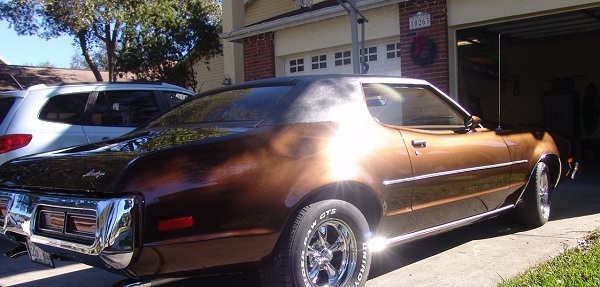 First time back home 12-22

Home again. Still need the rear w/o moldings, and both window trim (which are getting polished). Also have the fender emblems to put on " Montego MX "