October 2010
See monthly update links above.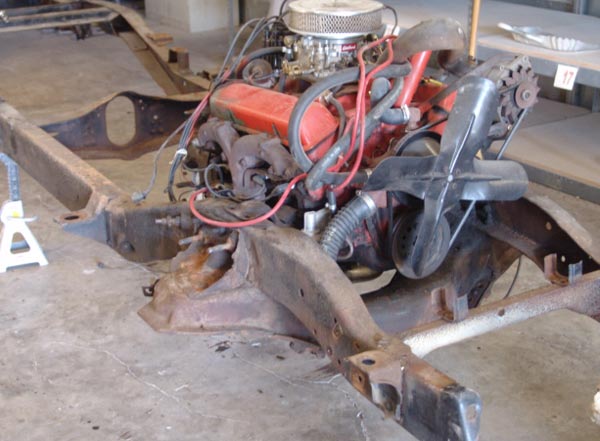 Engine/trans removal 10/6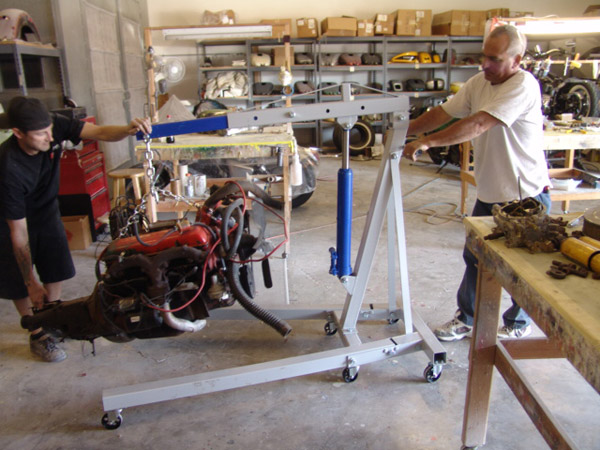 Frame off to be sandblasted and powdercoated – Satin Black
October 8th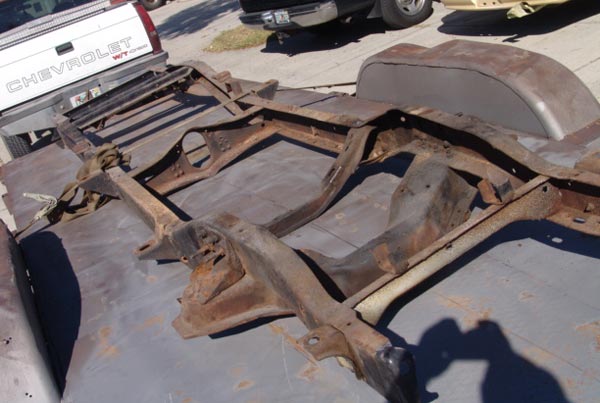 12 bolt – removing the drums, C-clips and axles – This will also be sent out to be sandblasted

October 12th
Rear will end up being a posi with possibly 3.75 gears.
Hopefully with the 2004R trans, this should have some real low end torque, but in 4th gear, hope to run about 2200 RPM's
Right now, this is a non-posi 12 bolt
zero rust. Very nice hood. All the way from Iowa. Came off of a 1966 Firetruck.
This came in the same day my frame was done (below pics)

Frame comes back from the sandblaster and powdercoater – 10/15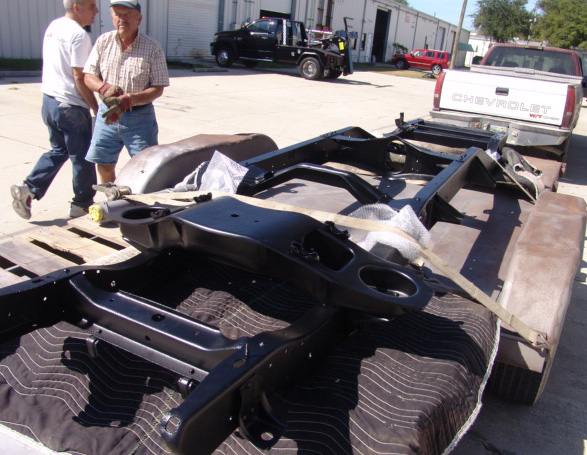 Rearend from the sandblaster

After looking at the frame, I wanted it even better. The powdercoater did a great job, but there
was some flaws in the frame along with rust pits…so I dove in the same day I got it from the powdercoater (10/15)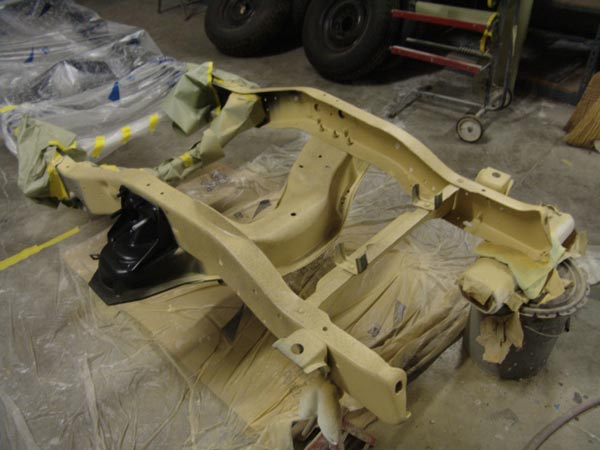 Primed 2 1/2 hours later
Notice there are only two holes on the top of the frame rail (directly above the black area you see on the crossmember)
instead of three in the previous pics.
On my previous truck, I used the front two holes to mount the perch for the big block. Since I am going small block this time,
I did away with the front hole (out of the three) for a smoother look.

10/16 Repainted in a satin black – Looks perfect now!!!

Satin Black rear

Upper and lower control arms in primer. Ready to paint.
Going to paint the same color as the truck which will be ? Possibly "Medium Spiral Gray"
These will be ready to paint later this week…better decide on what color I want to do the truck in
Narrowed down to the following…
Medium Spiral Gray with red calipers, int, and accents (2003-2004 Corvette color). My previous Corvette
Synergy Green 2010 Camaro color
2010 Hyundai Genesis "Lime Rock Green"
2008 Chevy Atomic Orange
2011 Harley-Davidson Sedona Orange
Purple Pearl. My previous C-10 which I painted in 1993. I created my own formula using Glasurit 54 line.
In fact, I still have the sheet showing the mixing toners and weights.
Funny how this is VERY close to the 1998 Corvette Pace Car color. I made this way before GM did.
C-notch installed (4 hours of cutting and grinding)
Received my Trans. Jody went to pick it up in Hudson from Transmission Depot
2004R 4 speed auto with 2300-2500 stall convertor
10/22/2010
ZERO rust VERY hard hood to find in this good of condition