January 2011
See monthly update links above.
Got the Chevy 383 installed before the end of the year!
See pics here!
Jan 5 update…Currently doing little things like the electric fuel pump, fuel lines, headers, fan, alum radiator….

Fuel pump installed 1-5-2011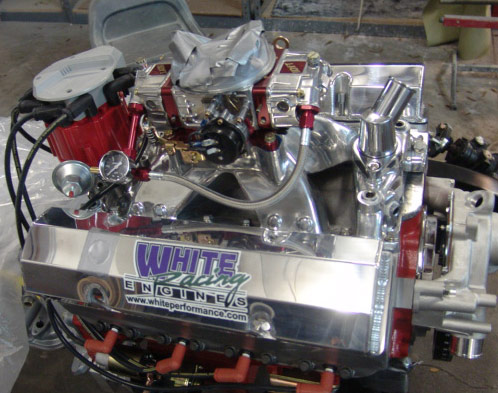 New fuel line installed

Saturday's Project. Assembly of the grill. Painted a satin black basecoat/clearcoat
New tri-bar style headlights. Heavy duty wiring harness
This is an aluminum "Custom" grill. Only weighs 3 lbs without the headlights, plates, buckets….
I weighed it. VERY light grill. You can see pics of when I chromated it before priming it here (Novembers Updates)

Primed bottom of the cab 1-12-11
1-14-11
Decided to go with a short water pump. The long pump was hitting the electric fan. With the short pum, I should have about 3/4″ clearance.
Pump is polished, but not the greatest job. So I'll polish it a little more. Pulleys and pump are just loosely fitted on.
Put on the one wire alternator.
200 4R TV cable is installed (Lokar cable)
Bent and painted the tranny lines to the cooler
One valve cover breather installed. Waiting for a grommet for the other side.
The way I worked the tranny cooler is the high pressure goes to the right side of the radiator.
Then the fluid goes through the radiator cooler, out the left side of the radiator, then goes through a crossmember to the alum mounted cooler. The fluid goes through this, then back back through the crossmember back to the tranny. Running it through 2 coolers also gives the trans an extra 2 quart capacity.

Jan 24-2011 Got a video on the Dyno pull!

Got my headers installed! They fit great. The were "just" touching the frame (see pic below), so I ground it back.
Got about 1/8″ clearance now.

Jan 27-2011 Cab mock up