Before Images (added 11/9/13) | July 2013 Updates | August Updates | September Updates | October Updates | November Updates December Updates |2014 Updates January | February | March  | April | May | June | July | August | September | October | November | December | January 2015 / 2015-2016
My Car/Truck Videos | New parts bought | Knitted vinyl seat material Cam specs – custom grind (spec by Randy 460 forum – grind by Lunati  272/282@.006″ – 225/233@.050″ – 136/143@.200″ – .320″/.312″ lobe lift, (.576″/.562″ with 1.8/1 ratio rocker arms), 109 separation; 107 intake centerline. 

All the links below include pics and info that shows work that was done during that particular month 9-2-2015 Article written by Chuck Green – Featured on the StreetLegalTV Online Magazine website.
Scott Farrell's 72 Mercury Montego GT "Forgotten American Muscle"
1972 Montego GT 429 – August 2014 Updates
8-4-14 Finally found a pair of vintage 429/460 Holley M/T valve covers. Had to pay a premium for them, but they seem to be in very good condition. They are on the way from CA.
Meanwhile. Getting my transmission rebuilt.
After Mike from Florida Transmissions took the trans apart, he gave the casing back to me to repaint

Monday, July 28th. Took to the transmission shop. I'm having Mike from Florida Transmission build my trans
He rebuilt the trans in my 1973 Montego and haven't had any problems whatsoever.
2500 converter – Alto Red Eagle Friction Module – Alto Kolene Steel Module
5 clutches in each drum

Original transmission that came with the car
August 4 – Brought the spare tire out of hibernation (hadn't looked at it for a year now), and after looking at it closely, it appears I can still use it. This is the ORIGINAL spare tire and wheel. The tire is in super good condition (No cracks, no damage. )
As far as I could tell, it had never been used. I planned on buying an updated tire until I saw all this. Also, I thought the tire was ruined since it was low on air and it's been sitting so long that the rim had sunk down and made the tire look distorted. Once I filled it up with air, it looked perfect.
I looked for a date code and it only says DOT. From what I read, the older tires just have DOT + where it was made. Then the newer tires have DOT + where it was made + what month and year it was made.
H78-14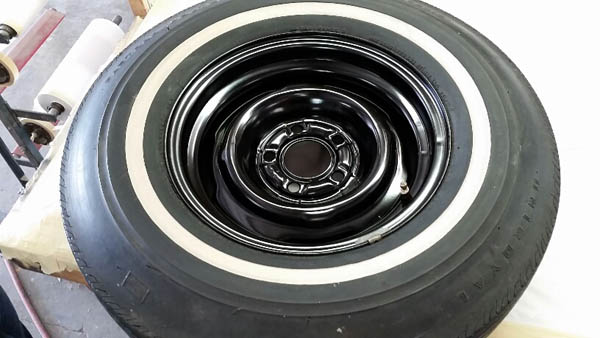 8-4 After sandblasting and repainting SEM Hot Rod Black.
Our shop got new glass roof panels, so it's much brighter. Took a pic of the car with the brighter light.
Can't wait to get the new wheels!!!
Click for larger image

2300-2500 stall converter
8-8-14 My C6 transmission is back!!!!

8-87-14 Received my 429-460 valve covers. Painted white and red. Had the paint stripped off within an hour, Started the polishing process.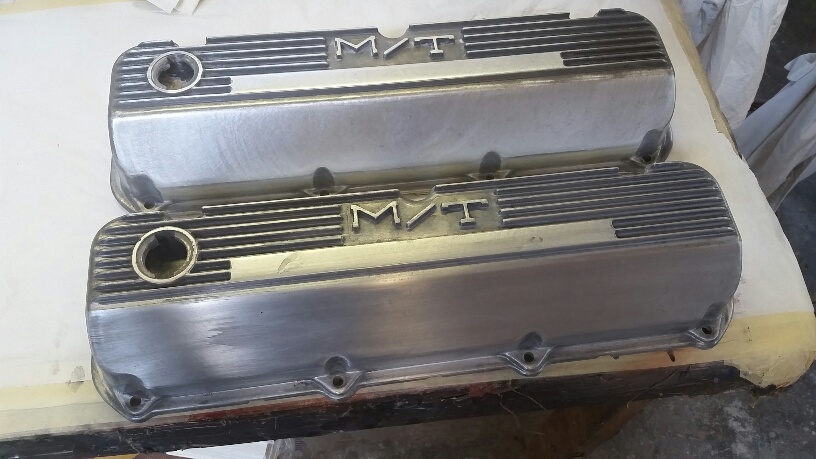 Video I took 9/9/14 right before installing the motor
-click on the view full screen icon [ ] to show it in full view

8-9-last pic before motor and trans is installed.
[xyz-ips snippet="1972-Mercury-Montego-GT"]
Sat – 8-9-2014
Installed the engine and transmission


Planned on doing this myself, but the 'hot rod' guys from next door were nice enough to come over and lend hand
It went very smooth. I was the one that was under the car and guided the rear of the trans and the mount to trans crossmember

It's In!!!!!!!
I can't really 'bolt' everything in and start hooking up lines since I need to lift the motor in order to install the headers. That will be quite the task, especially the drivers side.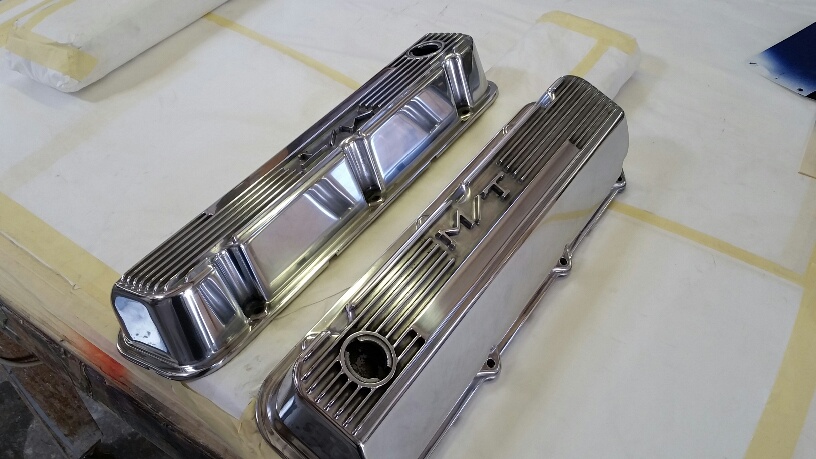 8-13-14 Got my valve covers polished today. The guy did a majority of it and I finished them off. Especially around the letters and between the fins.
I think they came out great!!!

Good thing I went with these. I didn't realize how important the 'flat' area is on the side of the valve cover.
Regular valve covers would not have worked due to the clearance between that and the ac evaporator case.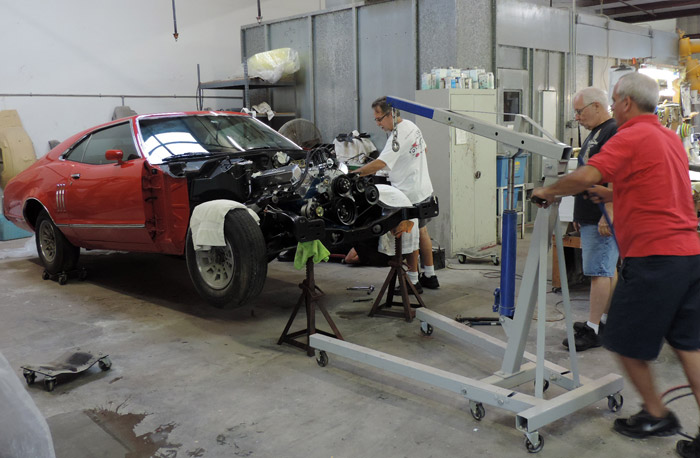 I'm in the red shirt.
8-15 The guys next store all came over and gave me a hand putting in the headers. What a pain it would have been to do by myself.
Motor and trans has to be raised about 2″, plus the car had to be about 2′ high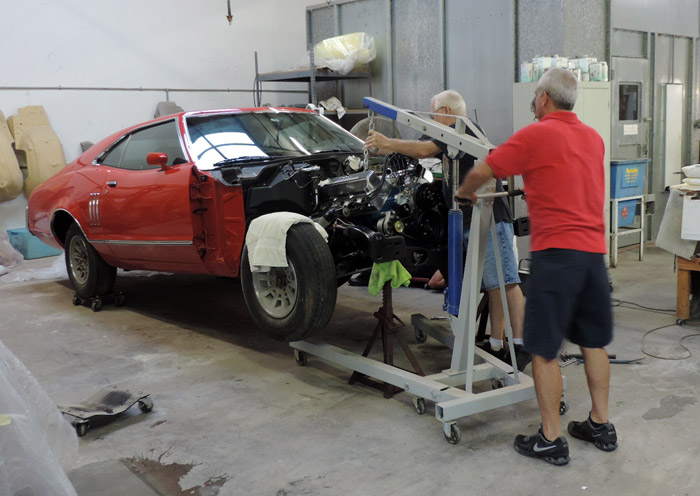 Brandon putting the header from the underside.

Headers are installed 🙂 !!!!!!!!!!!!!!!

Driveshaft is all set to be put in. I went with non-greasable joints

8-26 – Received my 1″ Jomar Powercone spacer

Received the starter. Looks great!

Before pic of the main harness

8-23 Kind of a before and after. Spent about 2 hours redoing the main 2 harnesses

Did my chromate imitation. One of the left is the real deal (NOS hose).

8-28-14
My daughter and grand daughter stopped by

Sabrina and Vanessa

Ashlee

8-28 Core support is painted

Installed the new radiator and painted core support. I mocked it up with the upper rad brackets not painted
I had painted them before this pic was taken. Also installed the old ac compressor only so it would hold the power steering cooler.
I will be going with a Sanden compressor

VERY close to D-Day. Hoping to start it up for the first time tomorrow – SAT – 8-30
We'll see how it goes
Break-in video Sat, 8-30-14
After brake-in idle down – 8-31-14
After break in
Firs time the car has been off the dollies and been outside since starting the project
8-30-14