Please note: I sold this car but recently saw it for sale (3/2020) with only 25K miles

2000 WS-6 Trans Am
Only 19,400 miles
Rare, desirable color combination
Red (taupe int)- 6 speed – convertible
The T/A is in excellent condition! Car new was $36K+ .
I would give this car a 9 out of 10. We've taken very good care of it. Since I've owned it, it has never seen a highway, driven hard or raced. My wife drives this most of the time to and from our business (about 7 miles each way).
I am selling my TA, because I just bought a 2004 Corvette.
We occasionally take it out on weekends, but we usually take our Avalanche or the Corvette when we go out.
I've owned this car now for 3+ years. It's been an excellent car, and we have taken very good care of it.
This car has no issues whatsoever!!!
I have the title in hand!

This car has the original paint on it!
This my my third TA I have owned. My first was a '95, the second was a '96 WS-6 with Ram Air and red /graphite leather. All three have been the bright red color (Torch Red).
The gloss on the paint is still like it was out of the showroom. It still has that "GM orange peel" (my Corvette has the same peel)I own a custom paint business…so I am very meticulous about my cars. I assure you this is all original paint.
There is one very slight ripple (about 1″) on the left 1/4. You really have to look to see this. this is not a ding, it is a 'ripple'.
Everything works great on this car!
Absolutely nothing mechanically wrong with it! Shifts and runs great
There are no mods done to the motor!
The only thing that has been changed is a K&N filter has been added…this was done by the previous owner.
Clean interior
Very clean interior. Car has never been smoked in.
There is one minor flaw on the drivers seat where I made a dumbfounded mistake, but it's not that bad. You really have to look for it to see it. See pic below.
Production numbers (only 1025 WS6 convertibles were made this year)
Vin # 2G2FV32G9Y2164336

2000 Trans Am (Vin#
2G2FV32G9Y2164336)

Dealer Window Sticker (cars was $36,000 plus)
Owners manual
2 sets of keys/alarms
Original set of WS-6 tires/wheels that came on the car when I got it. See in pics below.
Original coil springs
3 piece GM hard cover (see pic below) and bag for convertible top
Mods to the car
Flowmaster
exhaust (on when I bought the car)
Eibach springs
K&N filter (on when I bought the car)
3″ Flowmaster exhaust (nice deep sound… on when I bought the car)
White gauge
overlays
[xyz-ips snippet="2000-Trans-Am"]

Extremely clean engine compartment!!

VERY slight ripple on the left 1/4. Most people would not even notice this. Again, this wouldn't even be considered a ding.
That is not my boat in the background

Underside of hood

3 boot hardcover included. Bag is also included.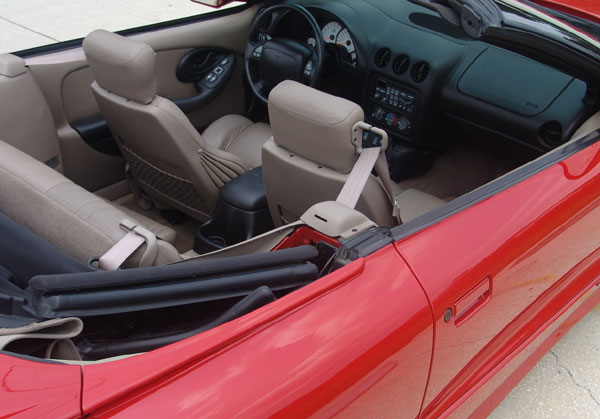 One minor blemish on the driver seat (about 1 1/2″ long). In fact, you really have to look to even see it.

Very minor spotting. Overall condition of top is excellent though. All threads and the glass are in excellent condition

This is a great place to check to see how well a TA has been taken care of. This is usually the first place to go on the seats because they are very easy to rub when getting in and out of the car. This is in excellent condition!
My 04 Corvette, 1977 Trans Am and 2000 Trans Am.