Before Images (added 11/9/13) | July 2013 Updates | August Updates | September Updates | October Updates | November Updates December Updates |2014 Updates January | February | March  | April | May | June | July | August | September | October | November | December | January 2015 / 2015-2016
My Car/Truck Videos | New parts bought | Knitted vinyl seat material Cam specs – custom grind (spec by Randy 460 forum – grind by Lunati  272/282@.006″ – 225/233@.050″ – 136/143@.200″ – .320″/.312″ lobe lift, (.576″/.562″ with 1.8/1 ratio rocker arms), 109 separation; 107 intake centerline. 

All the links below include pics and info that shows work that was done during that particular month 9-2-2015 Article written by Chuck Green – Featured on the StreetLegalTV Online Magazine website.
Scott Farrell's 72 Mercury Montego GT "Forgotten American Muscle"
1972 Montego GT 429 – July 2014 Updates
Parts used for the 521 motor
Parts

521 stroker kit
Eagle Crank
Eagle Rods
Mahle Pistons (.030 over)
ARP bolts
Hi Volume melling oil pump
Pioneer Harmonic balancer
New timing cover (painted)
Ford Racing 8 quart Oil Pan
PRW roller rockers (1/8)
PRW water pump

Custom grind cam by Lunati
Lunati lifters

Edelbrock heads (Assembled)
ARP head bolts

Torker II manifold
Pertronix Distributor
Moroso distributor clamp
Pics taken of the machined block – with crank and cam installed 7-2-14
July 7th – the motor is almost done.

7-1-14 Paint coil bracket and motor mount pieces
7-7-14 Brought my motor back to the shop
See any Montego parts that interest you, please click on the thumbnail to purchase or contact seller
[xyz-ips snippet="1972-Mercury-Montego-GT"]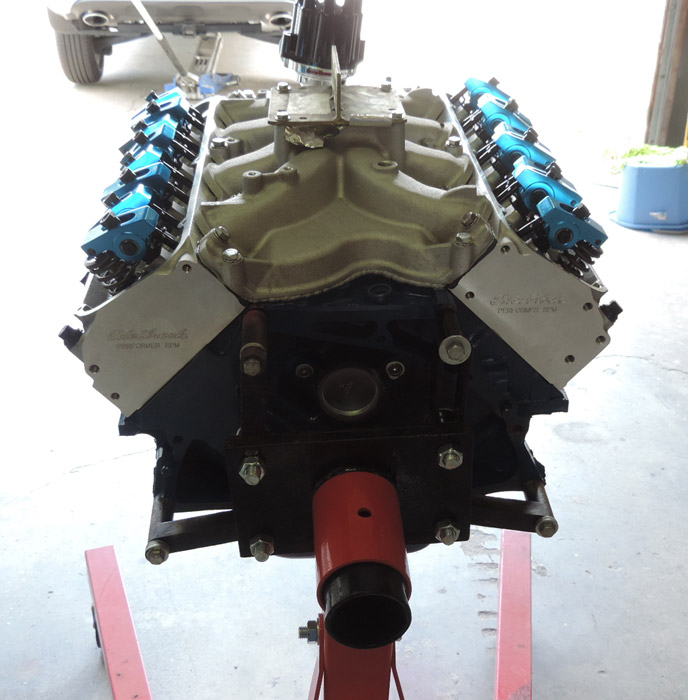 7-10-2014 Wetsanded and polished the front of the heads
Alternator bracket before sandblasting and painting
July 10th Polished the front side of the heads (these had small scratches on them, so I sanded and polished)
Week of July 18th Been working on the brackets and such.
Cut the wires to fit to make them clean looking as possible. Hard to do on a Ford.
No spray can here. All black parts were sprayed with SEM Hot Rod Black which is a very good catalyzed urethane. All parts were also sandblasted and sealed before painting. Power steering pump is on the way. Going to spray it the original dark blue metallic color.Decided on going with an updated Sanden compressor along with a parallel condensor for the a/c. Love to see it get 40-45 at the vents.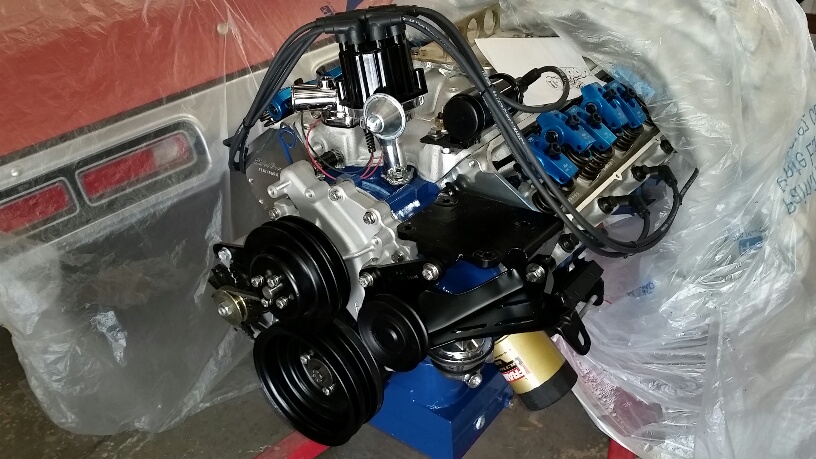 Above 2 pics taken July 21

July 21 – Finally got the evaporator case installed. Took the case apart and took the evaporator in to get it checked out. An A/C shop said it was fine.
I polished the main lines of the evaporator. Need to get a new expansion valve and POA valve.

Power steering pump and cooler before

July 22nd – received my new power steering pump. Have it prepped (along with stripping the dip stick) and ready for paint.
Just got it in about an hour ago.

My original pump on the left. I mixed up some paint to match the original color they used on the power steering pumps. I made up a basecoat/clearcoat. The original was a single stage paint. Notice the factory run.

All the parts freshened up and repainted before reassembly
July 23, 2014 – power steering pump back together
July 23rd marks the day that I bought the car one year ago.