I did the above header back in about 1999. It blended into the background. I decided to just keep in and add it to this page.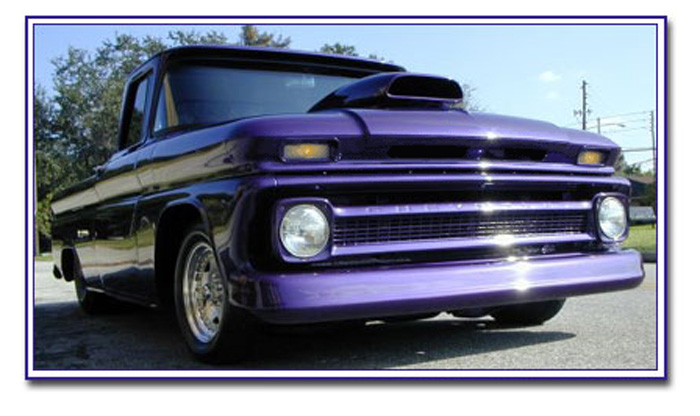 2010 – Anyone seen this truck or know the whereabouts of it, I'd like to hear about it.
I sold this back in 2001 and just wondering what happened to it.
The below links are OLD. Some work some do not. I did this back in about 2000 and just left it the way it was.
I bought this truck back in 1989 as a stepside from my brother-in-law. Since then, I have done quite a bit of work including adding the short-bed fleetside bed which is rust free. I bought a clean tailgate and added a new front panel. This is a frame-up truck which was completed in '95. It has very low miles since completion. It rides low, and straight. It also has 4 wheel power disc brakes. This is a *great* cruising-show truck. I take it out about once every 3 weeks. Been to the Street Machine Nationals, Slamfest and other shows. It is an all metal truck except for the front fenders (I still have the original metal one's stored in a shed! Even thought this truck was completed in '95, this truck still looks *EXCELLENT*. I am an auto painter by trade. I did all the paintwork, so this is very quality job.
I am located in the Clearwater, Florida area.
Name

Scott Farrell

State

Florida

Year,Make,Model

1963 Chevy C10 Pick Up

Color

My own formula (designed 1993) -BASF Glasurit 54 Line. I just call it purple pearl.

Engine

1974 Chevy 454

Engine Features

1967 427 Closed chamber, oval ports, 2.19-1.88 valves. Stock rods, ARP bolts. TRW 2399 Forged pistons. Complete Comp Cam drivetrain, 292, .560 lift, Mallory unilite Dis., Coil and MSD in Glove Box, Pete Jackson Gear Drive, Polished Alum Team-G manifold, polished ball-milled valve covers, timing chain cover & air cleaner. Low mount Alternator. All wires are hidden except spark plug wires, No air, no heater, no PS

Transmission

Turbo 350

Trans Features

10″ B&M Converter, Steel Sprag

Rearend

Ford 9″ narrowed 20″, 4.57 Gears, Traction Loc.

Suspension Features

4 Wheel disc., Front susp. 1979 C10 spindles calipers, rotors. Rear suspension-Chassis Engineering set-up that includes Alum coil-overs, and ladder bas suspension, Master cylinder is a 1986 C10

Tires

Front-Thin!  Rear-33X19.5 Sportsmans

Rims

15X4, 15X14 Rears Convo Pros-3 3/8″ BS on rear

Interior

Seats-Pontiac Grand Am center seat is made out of 1″X1″ tubing, custom console with B&M Ratchet shifter, Custom polished alum guage panel that is ball milled. Gauges are all Auto Meter 2/3/8″ (oil,water,fuel,volts) and a Monster Tach with shift light. Complete interior is covered on two-toned tweed. There are no seatbelts.
Custom door panels with Mustang armrests. power windows work perfect using ford pw motors. This truck also does not have air.

Bed

Interior of bed is done with thin Aluminum that is Slightly bead rolled, very few rivets are shown. Center panel is removable for access to shocks and rearend. Bed done by Guido's Specialties (Clr. Fl (813) 538-9108). Polished by owner.
The picture below is before the tail gate was put on.
I posted another photo  

Other Features and Info

2 1/2″ Flowmaster exhaust with Ceramic coated headers. Truck has been lowered 8″, but still rides nice.
Click on images for their larger images.







This photo is a close up of the reflection of a camaro that was parked close to the truck. This really shows how flat the paint job is. I took this shot off the left door.

[xyz-ips snippet="1963-Chevy-C-10″]
Me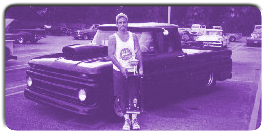 Older Pic
Frame
Click to vote for this page!
Place your free ad with e-Parts Source -Upload up to 4 photos to your ad!
Content copyright © 1998, 1999, 2000 e-Parts Source. All rights reserved.
Please send your questions, comments, or bug reports to the Administrator.
Classifieds and Car Show Powered by e-Classifieds.
Web Design by ADitude Web