November 2011 C10 build updates
This will probably be the last monthly update for my 1966 Chevy C10 Build!!
You can view all the monthly updates I've done by clicking on any of the links above.
Well, 12 1/2 months after starting my build, I can pretty much say "I'm done"
It's been a long road, but I'm glad (and the wife is to), that the C10 is almost done.
Now for a few little things.
I may purchase a Gaylords cover to keep the wood and bed fresh and clean.

So, this will be my last update for this project. I will be adding a few odds and ends and maybe some good pics.
Hope all of you that have watched it from the begining, have enjoyed seeing the pics and progress.

I will going to some shows in the near future. Those will be posted on my Car Show section.
Probably only list the first 10 or so. We'll see.

BADitude is done!
This video was taken the last week of September, 2011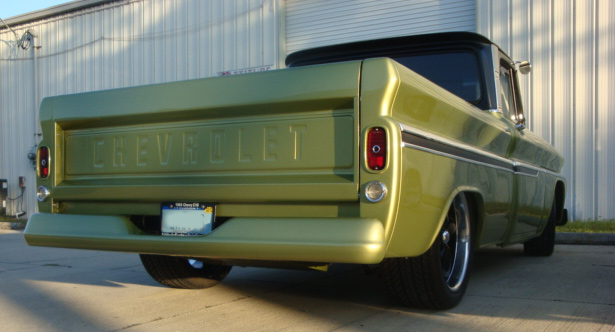 11/3/11 - Haven't posted a pic of the tailgate, yet. So....here is a pic of the tailgate

11/4/11

11/4/11 - me and my better half, who without her support, this build wouldn't have been possible.
26+ years of patience!
11/6/11 took some pics from the peak of our house.

11/9/11

Well, my 200-4R was shifting WAY to quick, so after some research, I discovered, that I should really have a Grand National governor instead of the stock style governor. The weights on the GN governor are lighter thus making it shift later. once it was installed, sure enough, it now shifts GREAT!
5 shows. 5 "Best Of" trophies (updated early DEC)
Updated Video taken 12/8/2011