Spray / Paint Booth Rental -
Tampa, St Pete, Clearwater, Pinellas Park, Largo area
Why risk the chance getting caught spraying in the side of your yard, or getting overspray on the neighbors vehicles?
Using our booth will also help eliminate your 'dirt' problems!!
Spray your boat, motorcycle, helmets, car, truck, trailers, appliances, trike body...
or anything else that would require a professional spray booth
The spray booth for rent is a cross-flow booth that is 23' long with drive in doors. This is a non-heated booth.
spray booth rental includes the following:
Use of our wheel covers
Use of our motorcycle fender and tank stands (which can also work for bumpers), or use of our fold out racks (if avail)
Compressor- 7HP Ingersoll Rand - 80 gal tank - which has all air lines ran.

Use of spray booth,and, air hoses.

Please only run the spray booth fan when painting (not when masking or unmasking)

Use of a 3' step ladder or 5' ladder if needed
Coupler adaptor to mate your spray gun to our hose if needed
Adjustable air blower-if needed
Masking machine (add your own paper. Can use one roll up to 18" wide)
barrel to throw your waste paint away

Space to final check and mask your auto

I will also offer very basic advice or guidance if you would like** . If you want more, I offer Auto Body 101
Be sure and check out our Printable Material Checklist for materials you may need.
Available during the week, most Saturdays and some Sundays (contact for availability)
Spray booth rental rates

Weekdays

Weekends (if avail)

1/2 day
8-12 or 1-5

full day
8-4:30

1/2 day
8:30-12:00

full day
8:30-3:30

$100*

$150*

$125*

$200*

SATA or Iwata spray gun rental - $25 for either 1/2 day or full day*

Need the shop and booth for a week?
Inquire on BIG savings for shop/booth weekly rental.

We accept Mastercard, Visa, American Express, Discover, Paypal, Cash

*Price is cash price! 10% extra charge for other types of payments + FL tax
3+ day notice needed - 10% additional charge for less than 24 hour notice (if available)

IMPORTANT: If you do not show up or contact us within one hour after your starting time is supposed to begin, we will assume that you will not be showing up. You will forfiet your deposit and another chance to rent the booth. You MUST contact us!
Spray booth rental requires a $25 deposit. This is a non-refundable deposit.
Stop by to pay in person or call with credit card information. If paying by credit card, a 7% tax will be applied.
Balance to be paid once you show up for booth rental.
Deposit is good for the specific day you place your reservation.
If you cancel your reservation, you will need to pay another deposit if you plan to reserve for another day.
Inquire
(let me know the day and hours you would like to rent the booth)
Need to prep and prime your car or truck? Inquire on our "shop space rental"!
Strip, bodywork, prep, prime, your car, truck or whatever you need to get ready for paint! (weekly rates)
**A noob to painting? No problem, I will also offer basic advice or guidance which is priceless.
25+ years paint experience if you need it**
Have a car/truck ready to paint, but you changed
your mind about painting it yourself?
We can mask and paint it for you! Click here for details!
>>>>>>> IMPORTANT RULES!!!! <<<<<<<
You will be required to abide to the following rules:
Only one person allowed in the booth when spraying
Only one other person is allowed in the shop, The second person is only allowed to help mask (or unmask) or final prep. Once this is done, they must leave or, they can stand around the front door and watch you paint it through the viewing glass.
You must bring all your cleaning thinner
You must supply ALL our own materials (if you find you do not have something, we can either order it for you or if we have it in stock already, you can purchase it.). See the link for the printable material checklist below.
You must bring your own garbage bag for cleanup
If two people will be here, at least one person must speak and understand english.
If you cannot be within one hour of your starting time for the booth rental. Please call us!
You must supply your own safety equipment
If you need to wetsand some areas, please bring your own spray bottle.
You will be required to sign a waiver
All work must be completed at the above ending time of rental (full day or 2nd slot 1/2 day) or 12PM (1/2 day weekday)
If you run over the alloted time, it will run $25 per 1/2 hour
No smoking or alcohol allowed on the premises
No metalflake or rhino liner type painting
You must supply all your own drinks (including water)
If you rent my spray guns, you are responsible for cleaning the guns after using them.
If you paint a boat, trike body, or or a 'roller', you will be responsible for pulling it out of the booth and loading
Please be sure and clean your own mess.
It must be picked up that day or the following day by 9AM (or at earlier time if discussed) or a storage fee of $50 per 1/2 day will incur. Or unless it's a Saturday or Sunday in which you can pick it up on Monday.

Examples of renting the booth...
1) If you brought your car, truck in at 1PM, prepped it, and then painted it by 5. Then picked it up the next day by 9AM, you will be changed for half day.
2) Another example would be if you wanted to bring in a motorcycle set to paint. You come in at 9AM, work on it for a few hours, then paint it at 2PM. Then you removed it from the shop by 5PM, or by 9AM the next morning , you would be changed for a full day.
But, If you decided to stay and wetsand and buff the set at our shop and it took you 5 hours, cost would be another day. If you decide to wetsand and buff it here, I can offer guidance and use of our buffer (you just need to supply the paper, pads and compound)
TIP: This is NOT a pay per item rental. If you have 2 cars, 2 sets of motorcycle tins, 2 boats, or whatever you need painted, and you can paint all of them within your alloted timeframe, there is no extra charge for this!
This is as long as the "second" car/truck,motorcycle is already prepped. In other words, you can't be painting one car, and prepping the other one. "Masking" the second one at the same time is fine.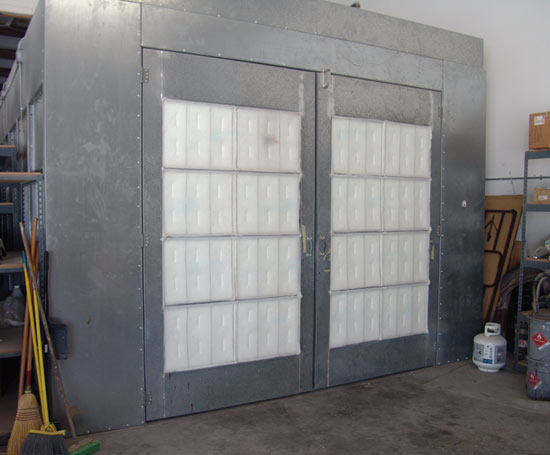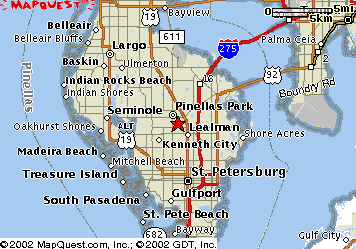 Located off 62nd Ave N and 44th St