#5 -How to repair a dent with the stud gun
You need to take extra care into using a stud gun on a fuel tank.
If yiou do not use caution, the tank could explode. Be sure that 100% of the fuel vapors are gone.
Also be careful in using the stud gun. You could end up putting pinholes in the tank.
It's advised to pressure check the tank once you are done.
Dent to be repaired
Grind as good as you can including deep into the dent
This is the stud gun we will be using.
Weld enough studs to grab a hold of to pull out the dent
We are starting to pull the dent. Start from the outside and work your way in. You use a special dent puller to grab ahold and the studs to pull
Here is a pic once the dent is pulled. You will need to cut these close to the surface once you got the dent out.
Then you will need to gring the rest of the stud off
Before going onto the 'mud' step, you may want to pressure check the tank first, just to make sure you didn't put a hole in the tank.
Our first coat is a coat of duraglass.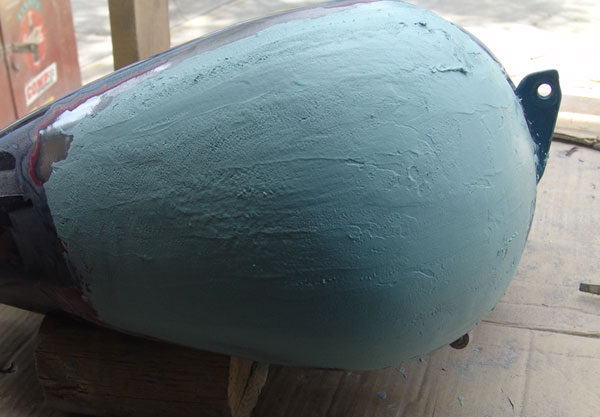 Our first coat of bondo
Finish cost of bondo
Tank is stripped ready for primer.
Tank is now primed