1987 Buick Grand National
Customer had the car media blasted and primed. All new floor pans were welded.
We will be sanding, priming, adding sealant and painting the floor pans.
We'll also be doing minor bodywork, prepping and painting the exterior along with the door jams

1987 Buick Grand National
Customer had the car media blasted and primed. All new floor pans were welded.
We will be sanding, priming, adding sealant and painting the floor pans.
We'll also be doing minor bodywork, prepping and painting the exterior along with the door jams
Hood and deck lid will be removed for painting.
Job started 2/3/11 – Completed 2/21/11

The car already had the door jams done, but they didn't do the greatest job, so we redid these (see pics below)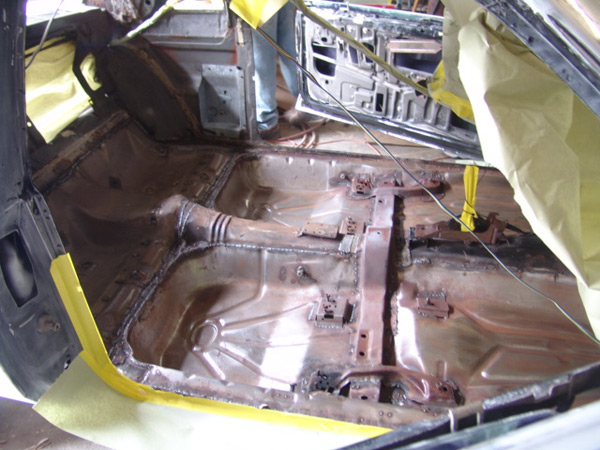 The following 4 pics were taken right after wetsand and buffing


reflection off the back of the deck lid


Notice the bolts are masked up to keep the paint off so the nuts go on cleanly.
Black basecoat clearcoat painted 2/15/11
Still need to wetsand and buff. This shows you what it looks like right after painting.

Black basecoat. The header was loosened for painting at the customers request

Not a bad reflection for just painting!!!! Wetsand and buffing pics yet to come.

Reflection off of the left sail panel.
Click here to see what the cab in the reflection is for (opens a new browser window)
Want to get updates on this (and other jobs we do?), be sure and register and login.
Go the page you would like to 'subscribe' to. You will see a 'subscribe' like right above the comments form.
You will not see the subscribe link if you are not registered and logged in!
You'll get an automated email once we add info and or pics.
TIP, you also have the ability to subscribe to ALL pages.