Before Images (added 11/9/13) | July 2013 Updates | August Updates | September Updates | October Updates | November Updates December Updates |2014 Updates January | February | March  | April | May | June | July | August | September | October | November | December | January 2015 / 2015-2016
My Car/Truck Videos | New parts bought | Knitted vinyl seat material Cam specs – custom grind (spec by Randy 460 forum – grind by Lunati  272/282@.006″ – 225/233@.050″ – 136/143@.200″ – .320″/.312″ lobe lift, (.576″/.562″ with 1.8/1 ratio rocker arms), 109 separation; 107 intake centerline. 

All the links below include pics and info that shows work that was done during that particular month 9-2-2015 Article written by Chuck Green – Featured on the StreetLegalTV Online Magazine website.
Scott Farrell's 72 Mercury Montego GT "Forgotten American Muscle"
1972 Montego GT 429 – December 2014 Updates
The restoration of my 1972 Mercury Montego GT 429/521 is nearing completion. I did the "Maiden Voyage" on November 28th. The ride went without a problem :). I only have the hood left to paint.

Great find! NOS right fender splash shield.
D2OZ 16240 B
This is the plastic piece that fills the void between the lower wheel well and the frame.
I sandblasted and painted the original bolts.
Still looking for a clean left side – I have my originals, but they are caked with old undercoating
This is a hood I purchased about 2 months ago. An original 72 Montego GT hood. I have 2 other hoods now. The original Montego GT hood was great on the topside, but had some rust issues on the underside. Then I have a 73 Montego GT hood. While it looks the same, the latch area is different. 1973 was the first year manufacturers went with the hood pull cable on the inside of the car. I went ahead and bought a latch bracket assy along with the pull cable when I decided to search for a clean 1972. I finally found a nice clean one. Had it shipped from Oregon to FL
I stripped and bodyworked it Sat 12-6

In primer 12-6
12-8-14 early AM
Click for bigger pic

12-11-14 Painted the underside of the hood.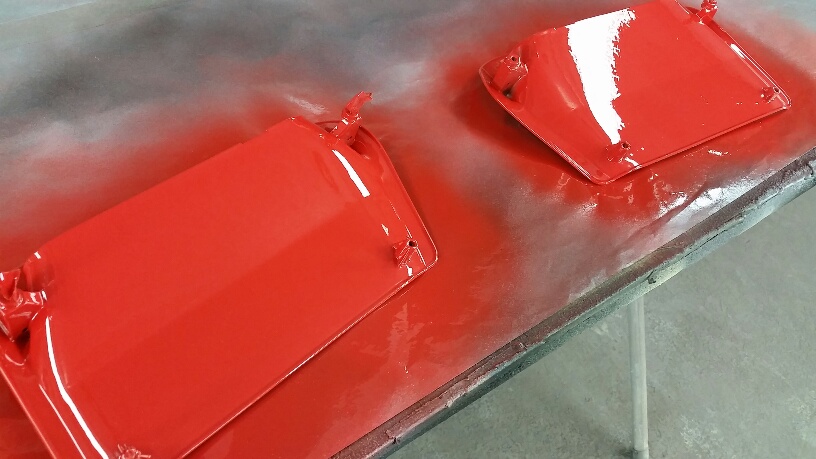 Painted the underside of the hood scoops
12-13-14
The final piece of the puzzle is painted!!!
The hood came out nice and straight – of course it was a very clean hood to start with,
I should be able to hang it next week. The hinges are painted. I just need to detail the scoop plates.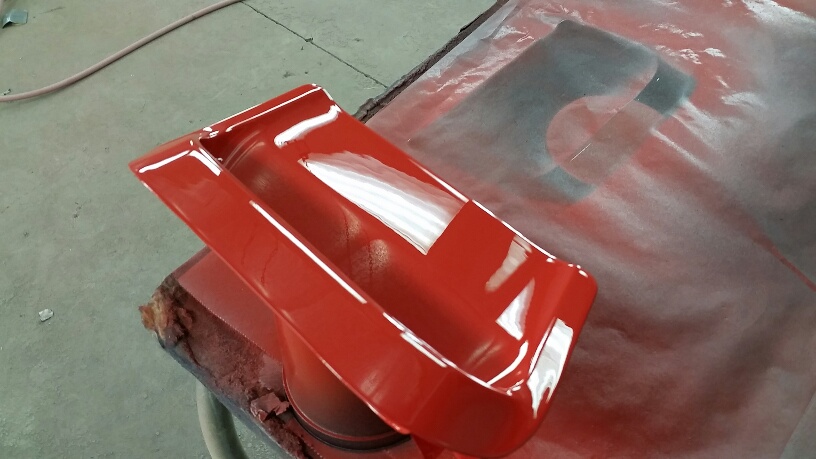 [xyz-ips snippet="1972-Mercury-Montego-GT"]

I stripped all the black paint off the block-off plates

Then I polished the backside of the plates plus polished the 'fins' on the plates.
I only paid attention to the fins, not the background

I masked the fins off – talk about some tedious taping

I sprayed the background with SEM Hot Rod Black which is a 2K black

Scoops are buffed, nuts are painted and block-off plates are ready to put together

12-17 First scoop installed
If all goes good, I should be able to install the hood tomorrow.
12-18 The hood is on!

12-20 First drive with the hood on

September 2013

December 20