Before Images (added 11/9/13) | July 2013 Updates | August Updates | September Updates | October Updates | November Updates December Updates |2014 Updates January | February | March  | April | May | June | July | August | September | October | November | December | January 2015 / 2015-2016
My Car/Truck Videos | New parts bought | Knitted vinyl seat material Cam specs – custom grind (spec by Randy 460 forum – grind by Lunati  272/282@.006″ – 225/233@.050″ – 136/143@.200″ – .320″/.312″ lobe lift, (.576″/.562″ with 1.8/1 ratio rocker arms), 109 separation; 107 intake centerline. 

All the links below include pics and info that shows work that was done during that particular month 9-2-2015 Article written by Chuck Green – Featured on the StreetLegalTV Online Magazine website.
Scott Farrell's 72 Mercury Montego GT "Forgotten American Muscle"
1972 Montego GT 429 – October Updates

Parts getting painted in the spray booth
Strut bars, upper rear control arms, brake anchor plates, and lower control arms all set.
All new poly bushings and ball joints

October 4th – installed the coil springs
What a pain that is to install these withou any weight on the frame!!!!
October 5th – Installed the rotors

10-6-2013 Installed the KYB shocks along with the calipers

October 8th. Received my brake lines yesterday. They were supposed to be NOS, but they are not.
NOS had gold ends….so, I ended up making a special candy color (candy gold, candy red, and a few drop of black), and sprayed it over the silver

October 8th. Installed the new brake lines along with the orangish clips

Closeup of the right suspension

October 8th. Also primed the rearend. I'll be spraying it satin black soon. Probably will get the races done first
10-11-13 Coming soon project. removing all the undercoating.


10-11-13 Painted the rear in a satin black. Came out great considering how rough it was

10-11 I also painted the coil springs. This is 10-12, here you see them with the coil spring insulators, taped on and ready to install

10-12 most of the parts ready to install

Rear almost installed. Quite the job to do by yourself without chiping anything up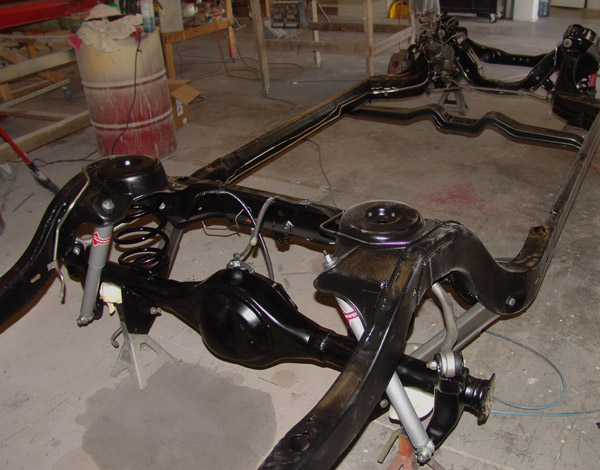 All installed

10-12-13 Almost a full chassis. 2 1/2 months since starting this frame-off
Detailed the rebound bumpers for the rear. You can also see some sway bar parts. Went with a new Aadco 1 1/8″ sway bar.

Had new axle bearings pressed on

Drum brakes before

Drum brakes after I rebuilt them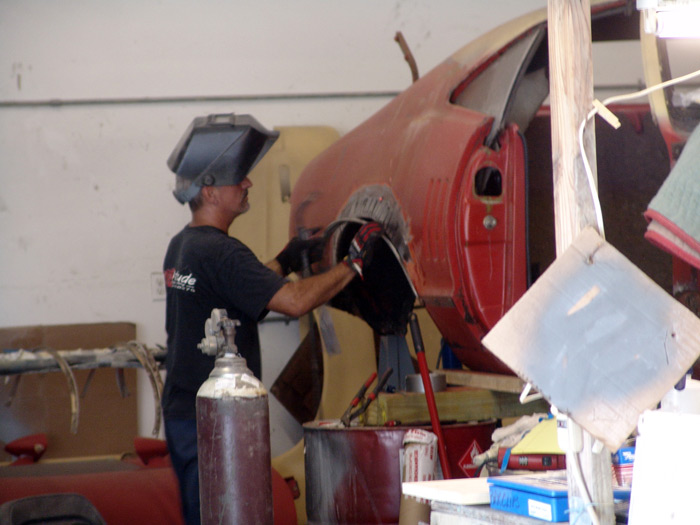 Welding up some rust. I started doing the welding. Then my body guy (Adam) finished it up.
I did the bodywork on it.

10-19 Painted the drive shaft in a satin black

10-23
Repaired the rust on the right quarter. Stripped it and got it in primer. Also had to rework the sail panel as this was wavy.
10-28 Still waiting for my center section for the Ford 9″. Dropped it off 10-17.
Decided to go with 3.25 gears. The rear already had traction loc in it.
All will be new once I get it back.
Then I will install the axles. Bolt on the roller wheels, then roll it outside for some pics 🙂
Front sway bar is intalled, but no pics yet

10-26 Started the left quarter. Adam is doing all the welding. I'll do the bodywork.