Before Images (added 11/9/13) | July 2013 Updates | August Updates | September Updates | October Updates | November Updates December Updates |2014 Updates January | February | March  | April | May | June | July | August | September | October | November | December | January 2015 / 2015-2016
My Car/Truck Videos | New parts bought | Knitted vinyl seat material Cam specs – custom grind (spec by Randy 460 forum – grind by Lunati  272/282@.006″ – 225/233@.050″ – 136/143@.200″ – .320″/.312″ lobe lift, (.576″/.562″ with 1.8/1 ratio rocker arms), 109 separation; 107 intake centerline. 

All the links below include pics and info that shows work that was done during that particular month 9-2-2015 Article written by Chuck Green – Featured on the StreetLegalTV Online Magazine website.
Scott Farrell's 72 Mercury Montego GT "Forgotten American Muscle"
My new project….
1972 Montego GT
Purchased July 24, 2013.
This is a true"N" code 429.
According to the Montego GT registry, only 202 were made with the 429. Only 11 are currently known to still be around
The Montego GT (all are fastbacks) is best known from David Pearson's #21 Winston Cup car (1973 – Wood Brothers)
ALL original paint!

Never been in an accident

I have the original window sticker
Has the optional Whisper-Air air conditioning (a $400+ option)

It's completely original (except for the wheels).

Very good condition considering it's 40 years old.

All moldings are in excellent condition (just need polished)

Inside door and 1/4 panels are perfect (except the front arm rests)

No dings or dents on the bumpers

Original spare tire.

Looks like the spare tire has never been removed.

Car has not been titled since 2008.

Floor pans and trunk floor are excellent with no rust

Simulated chrome on the guage bezel is an excellent condition

Shifter is nice and tight

Body only has one ding on the right door
When I bought it, I took it back to the shop and that same day, I changed the fluids and plugs, dumped the old gas, put fresh gas in, installed a new battery and yes, it fired up.
Doesn't even smoke. Drove it around our complex and it drove great. Runs excellent!

As it was when I went to look at the car for the first time

Notice the perfect chrome around the gauges

Backseat is perfect – Tear in the headliner

Seats are excellent except a rip in the drivers seat
[xyz-ips snippet="1972-Mercury-Montego-GT"]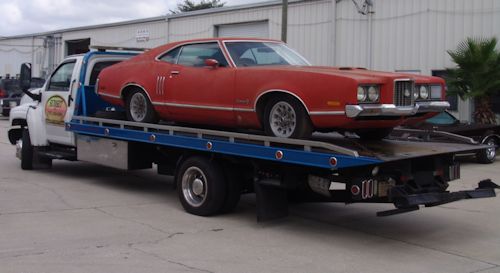 At my shop – July 24

Almost perfect passenger seat

Montego GT emblems

Great looking bumper and grills – Need to replace the GT insert on the medallion

Perfect gauges and lenses. Notice the factory radio and the perfect simulated chrome
Perfect right door pane. Just need to replace the armrest.
Per

Great looking back seat

Well…not so great original 429. Got it to run after all those years. Ran great! Will still rebuild it though.
Both my 1972 Montego GT 429 and my 1973 Montego MX 400
My inspiration – This is a 1973 Montego (same as my brown Montego). ALL GT's were fastbacks
Only difference between the 72 and 73 was the grill, header, bumper area. The rear bumper also stuck out slightly more on the 1973.
The first federal bumper standard started with 1973 models when 5 mph front-into-flat-barrier and 2.5 mph rear-into-barrier requirements were introduced. The following year rear impact speed was increased to 5 mph.
The RESTORATION begins
July 27, 2013
Hood pulled, stripped, bodywork, Ospho – then came in July 28, resanded and primed.

Original paint
NO DINGS on this hood!!!
Had to get the 73 Montego MX in the pic
The above pics were taken July 2013…. Look on the top of the page for the "Monthly Updates"