Before Images (added 11/9/13) | July 2013 Updates | August Updates | September Updates | October Updates | November Updates December Updates |2014 Updates January | February | March  | April | May | June | July | August | September | October | November | December | January 2015 / 2015-2016
My Car/Truck Videos | New parts bought | Knitted vinyl seat material Cam specs – custom grind (spec by Randy 460 forum – grind by Lunati  272/282@.006″ – 225/233@.050″ – 136/143@.200″ – .320″/.312″ lobe lift, (.576″/.562″ with 1.8/1 ratio rocker arms), 109 separation; 107 intake centerline. 

All the links below include pics and info that shows work that was done during that particular month 9-2-2015 Article written by Chuck Green – Featured on the StreetLegalTV Online Magazine website.
Scott Farrell's 72 Mercury Montego GT "Forgotten American Muscle"
1972 Montego GT 429 – March 2014 Updates
Updates on my 1972 Montego GT project. See other 'monthly updates' above.

3-1 Some of my polished moldings

3-6-14 The windshield is installed. I also just received my polished front moldings
Installed the wiper arms.

3/4 pic. I also installed the right drip rail molding, channel and new weatherstripping (3-6)

3-6 Installed the original visors and new brackets.
3-6 New mirror glass. Redid the post in Alsa Mirror Chrome ($250 / pint. Already had some in stock) Installed the same day
3-11 Received my 'gills' (louvers back from D&R in CA.
They did a great job! They also did my grill 'medallion'.

Did some minor bodyword on the top of the door and got it in primer (did this last Sat).
The complete door had been sandblasted.
My bodyman (Brian) welded some patches in. Doing the bodywork on the bottom of the door now (3-12).
3-16-14 Doors are very close to being ready to paint. I worked both Sat and Sunday on the doors. Both are pretty much in final prime.
If all goes good, I'll be painting the insides, then doing the outsides this week.
March 21 – painted inside of doors
March 22 – Masked up inside of doors and painted outside of doors
March 23 – Wetsanded and buffed outside of doors
March 21 – Got word that the front and rear bumpers are done. They should be back from Tri-City Plating in TN by the end of the week.
3-22 Prepped ready for paint – Sat

Doors sealed

Basecoat

Clearcoated – jams were already painted on Friday 3-21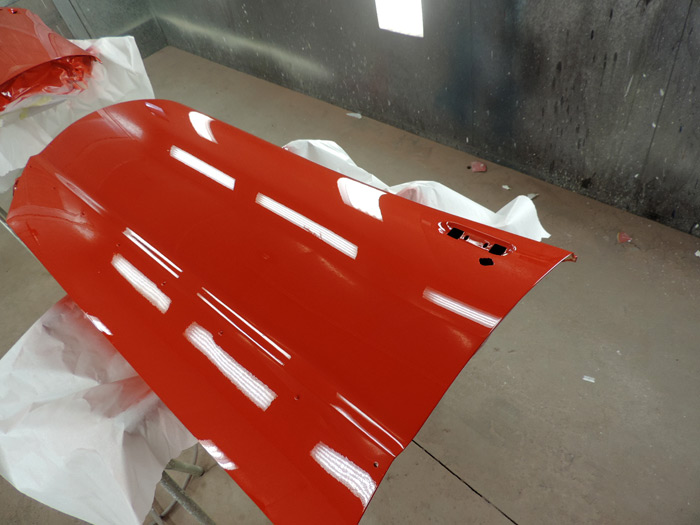 After painting

March 23 – after wetsand and buffing (reflection pic)
See any Montego parts that interest you, please click on the thumbnail to purchase or contact seller
[xyz-ips snippet="1972-Mercury-Montego-GT"]

Reflection pic

Reflection pic

Monday 3-24 – hung the door. BIG day! Nice to see them back on.
Bumpers are also on the way. They should be here this week. I'm all set to hang the rear bumper.

Pic of the drivers door. New clips installed

Drivers door

Inside pic before I start installing all the trim and speakers

Passenger door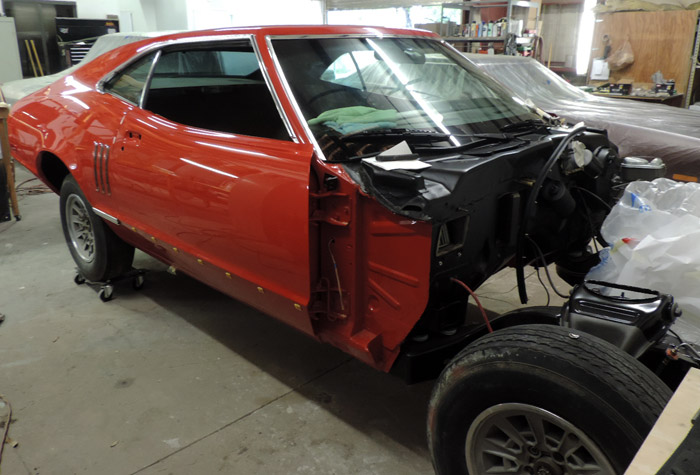 3/4 pic

3-24 Passenger door
3-26-2014 Painted the bumper brackets. Just so happen, the bumpers also arrived.

3-25 Received my bumpers – Had them rechromed

Rear bumper bar installed. I used the original stainless steel capped bolts on the bumper.
I polished them so they look like chrome.

Wrote the 389 which is the number that was written when it went through the assembly line

Bumper installed. Redid the taillight housings.
Note the NOS taillights
Taken late March
My 1966 Chevy C110 – My 1973 Montego MX and my 1972 Montego GT